4th of July, Prayer & Fortitude
The Cajun Factor
I've been reading The Beginning of the End of Abortion by Shawn D. Carney who started 40 Days For Life.  The book is full of stories and inspired me as I realized again how important the sidewalk advocates are as they pray outside of Hope Medical Group in Shreveport.

One chapter in the book was titled, "The Cajun Factor" and it was about two of Louisiana's pro-life leaders.  They are both young men with families. Chris Davis and Ben Clapper know abortion isn't going to just go away. They have fortitude; they work to end abortion and educate people across Louisiana. 

Shawn tells the story of Chris Davis from Shreveport deciding to take a break from leading another 40 Days for Life campaign in 2017.  He was tired.  However, Chris changed his mind and as always, he persuaded, cajoled and just kept asking people to come out and pray at the Bossier City abortion facility.  That was in 2017 and that was the last time there was a 40 Days for Life campaign in Bossier City.  WHY? That year Bossier City Medical Suite abortion facility closed its doors forever after performing over ten thousand abortions.

The second person in the "Cajun Factor" chapter was Ben Clapper, President of Louisiana Right to Life.  He has recently established a Northwest Louisiana chapter of Louisiana Right to Life in Shreveport/Bossier.  Because the Shreveport abortion center does the most abortions in the state, Ben is dedicated to helping pastors, Christians and churches understand the important role we play in bringing abortion to an end in Shreveport. He's hosting the 2nd Annual Pro-Life Prayer Breakfast in Shreveport in August just for that reason.

If you saw the movie Unplanned, you saw how God uses people to make change happen. 
 
Be one of those people who says "Yes, I'm going to do something to end abortion in Shreveport." 
 
Don't put it off - the Pro-Life Prayer Breakfast in August can be that first step for you.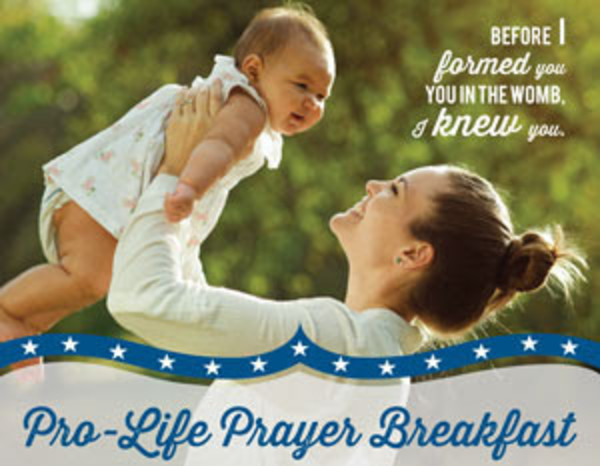 Louisiana Attorney General Jeff Landry, Guest Speaker
Thursday, August 22, 2019  - 7:30 a.m. – 9 a.m. 
First United Methodist Church
500 Common St.
Shreveport, LA 71101
 
$25 per ticket
Sponsorship levels, which include a table for 8, are available at $200, $500, and $1,000.
Buy Tickets Here
 

P. S. Proceeds will support NW Louisiana pro-life efforts, including the annual Louisiana Life March North, held each January in Shreveport-Bossier.